Sewing Machine with Transport System DIGITRAN
For Single or Double Lockstitch

The Digitran System provides a complete sewing solution enabling you to sew your SEG as well as an array of digitral textiles. The synchronized transport system for sewing makes it simple for your operators to handle small or large projects in one workspace area.
Provides framing solutions for SEG
Transport system syncronized for accurate and precise flow of material handling and product finishing


FEATURES AND BENEFITS
Transport system synced with sewing machine and welder for accurate and precise flow of material handling and product finishing
Hands free SEG feeding and cutting
Programmable back stitch configuration and stitch cut for easy operational use
Synchronized needle bar and feed for even stitching
Needle cooling for faster sewing
Multiple seam configuration for almost any type of job
Light aluminum frame for easy mobility around your facilit
Easy to use touch controls
Driven roller for large graphics
Robust highlead sewing machine for maximum up time
Configured with a welding machine to increased product versatility with an All-In-One Sewing and Welding Solution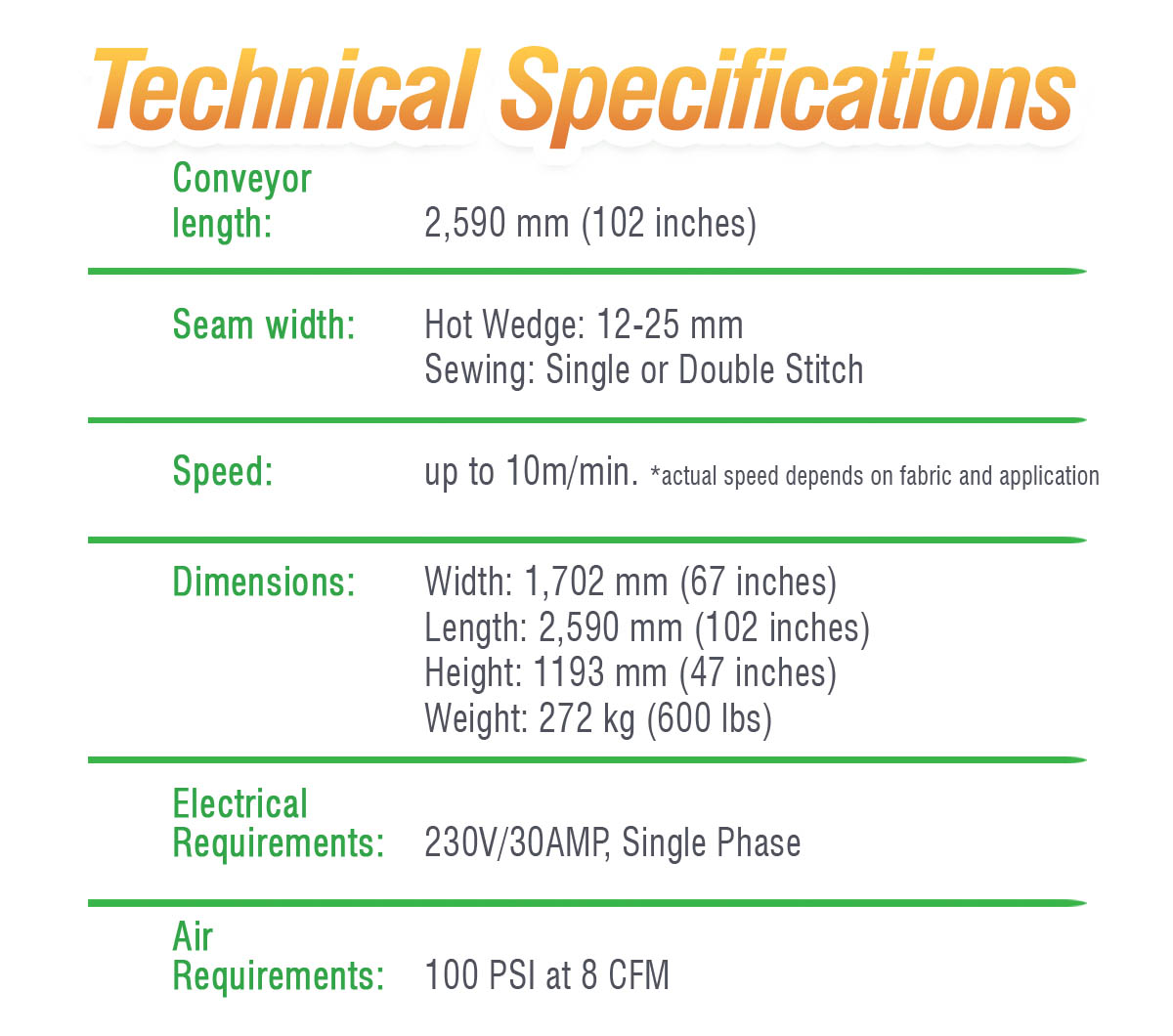 WHAT IS SEG?
SEG is a high-resolution dye-sublimated fabric graphic finished with a thin silicone strip. The silicone strip is sewn to the edge of the fabric graphic, and then the strip is inserted into a frame with a recessed groove. The fabric should be taut when installed in the frame, and the result is a large format graphic. This type of digital textile format is popular for tradeshows, outdoor flags and banners, and indoor retail applications.
SEG is quickly becoming the norm in the digital textile market for many reasons, including:
Quick assembly
Reduced shipping, installation and storage costs
Lighter, more durable, more vibrant fabric
More finished appearance than traditional fabric graphics